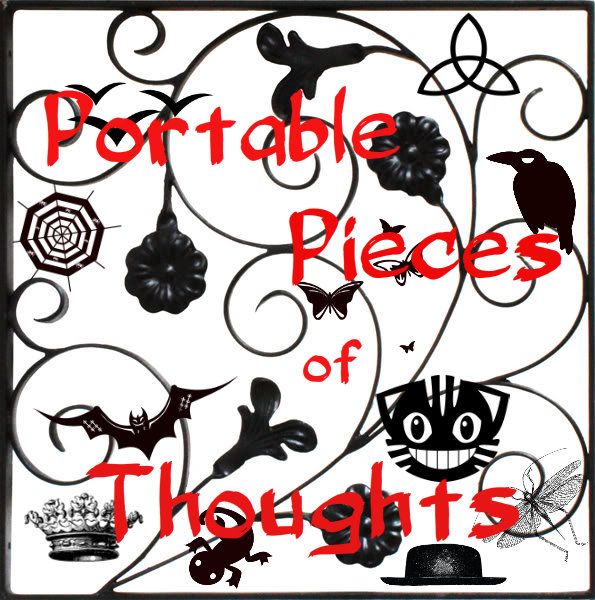 Please welcome Bridget, who blogs at
Portable Pieces of Thoughts
. Bridget's blog is known for great essays and eclectic, creative reviews.
Questions
:
NAME OF MY BOOK BLOG(S): Portable Pieces of Thoughts
I HAVE BEEN BLOGGING SINCE: 2010
GENRES COVERED MOST ON MY BLOG: I am omnivorous, I read almost everything: urban fantasy, paranormal romance, those freaking romance, non fiction, historical fiction, thrillers, sci-fi, space operas, crime mysteries, you name it...
MY EARLIEST MEMORY OF READING: ???
FIRST BOOK I READ OVER AND OVER: LOTR by Tolkien. I couldn't get enough of it. And then I discovered
Silmarillion
;).
MY FAVORITE PLACE TO READ: where nobody can disturb me.
MY MUST-HAVE READING ACCESSORIES: a pencil - I am a doodle addict
MY BOOKSHELVES ARE: I don't believe in shelves. I believe in glass bookcases.
MY TBR LIST/PILE IS: too full? too long?
A BOOK THAT INTIMIDATES ME: there is no such a book.
IF I COULD GO TO ANY LITERARY DESTINATION I WOULD CHOOSE: Egypt
MY FAVORITE NON-BOOKISH ACTIVITY: shopping for shoes, drinking coffee, creating jewellery
MY FAVORITE BOOK TO MOVIE ADAPTATION: there is no such thing as a good book to movie adaptation. Nuh-huh
MY BOOK BLOG STANDS OUT FROM THE CROWD BECAUSE: it doesn't stand out from the crowd. Not really. No fireworsks just reviews and essays.
MY MUST-READ BLOGS (PLEASE LIMIT TO 3): Truth, Beauty, Freedom and Books, TYWKIWDBI, Dear Author,
MY READING PERSONALITY (http://www.bookbrowse.com/quiz/) IS: OK I actually went there and did that quiz. Here is the result: "You read for entertainment but also to expand your mind. You're open to new ideas and new writers, and are not wedded to a particular genre or limited range of authors." I quite agree.
Thank you for joining us today, Bridget! Remember to check out Bridget's blog,
Portable Pieces of Thoughts
, and leave a comment or question.